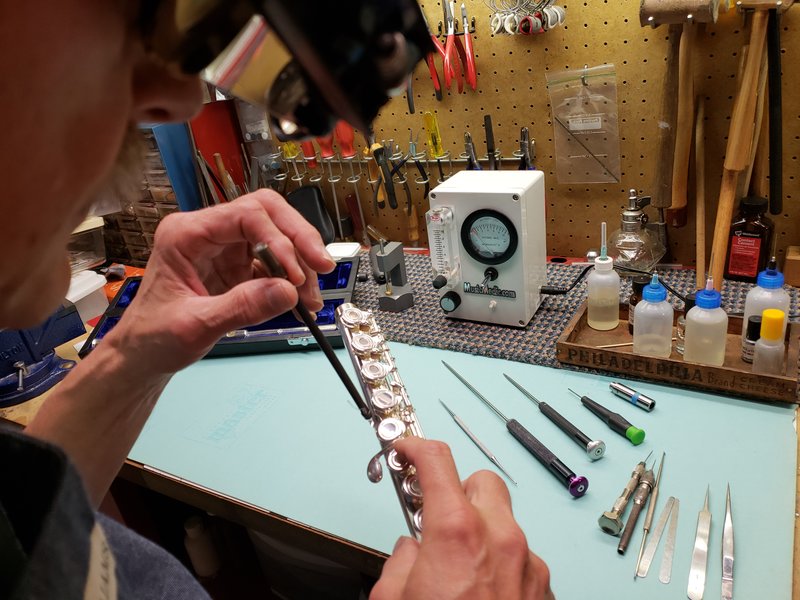 FLUTE SERVICE AND REPAIR
A C.O.A. (also known as a clean oil and adjust) is the most important service  for keeping your flute in top playing condition. It is recommended that you get your flute serviced once a year. Getting your flute serviced will make it possible for it to function optimally. Over the course of a typical year, just as brake pads and tires on a car gradually wear, so do pads on a flute gradually wear and should be checked, and the regulation of keys may need a "tune up".  The headjoint cork may dry out causing the headjoint cork to not seal tightly, in turn causing a leak. The amount of play time will also break down the oil used to lubricate the key mechanism. 

Having your flute serviced annually will ensure that it will play well and lessen the chance of major repairs needed on your flute in the future.

A basic clean, oil and adjust includes coverage, regulation and lost motion adjustments, setting of key venting heights and balancing spring tension, check of mechanism for freedom of action and for excess side play and slop.  Pads, corks, felts and springs replaced as needed [extra charge].  All flutes are disassembled for cleaning.
Summer Lesson Program
For New Students
10 weeks regularly priced at $350 – July 1 – September 8
(applies to half hour lessons only)*         
 NOW --   $300 if paid in full at the first lesson
           Beginners through College and Advanced Adult
Includes preparation for County, Area, and Region ensembles as well as college audition preparation, guidance and recommendations.