Di Zhao Boston Handmade Flutes

PLEASE CALL FOR AVAILABILITY.  CUSTOM ORDER ONLY.  CALL (908) 500-6690 TO ORDER YOURS.   FOR AVAILABILITY AND PURCHASE TERMS, PLEASE REFER TO THE DISCLAIMER AT THE BOTTOM OF THIS PAGE.
Producing some of the finest semi-handmade student to advanced flutes in the world, renowned flute maker Di Zhao now offers his Boston handmade flutes. Here is what one person wrote to me - "Zhao has reinvented the quality and beauty of vintage Powell flutes, but at a considerably lower price-point."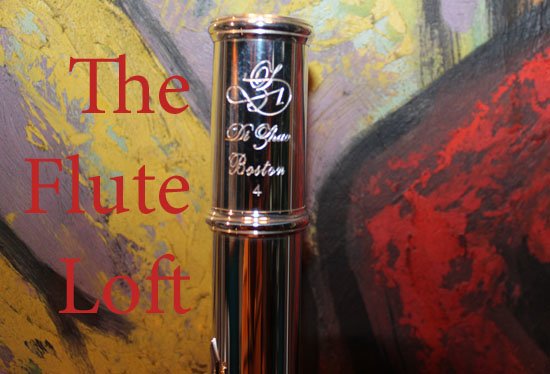 Boston handmade flutes at a considerably lower price-point!  
FEATURES
Offset or Inline G key

Sterling silver hand carved headjoint (14 carat gold riser head joint optional with a Bernhard Hammig Magic Crown in rhodium or gold)

Sterling silver body, footjoint and keys
French open hole

Pointed key arms

10k white gold springs
B-footjoint
Drawn tone holes
Call to audition one of these finely handmade flutes made in Boston by Di Zhao.   PLEASE CALL TO ORDER.
Steven Wasser, owner of Powell, said of Di Zhao - "Zhao has outstanding skills as a flute and headjoint maker" … Posted: February, 2007, Entrepreneur Media, Inc.  Each instrument is completely handmade in the Boston tradition in that each key is individually hand fitted for a precise fit without the side to side play found in machine made flute mechanisms. All pads are partially shimmed. Every flute is made to achieve smooth key action, fast response, and excellent resonance.  All flutes are tuned to pitch 442.

PAST REVIEWS
 "Zhao has reinvented the quality and beauty of vintage Powell flutes, but at a considerably lower price-point. It is my hope that the price stays well below that of the other Boston flutemakers", said one customer.


When Di Zhao sent me the price list, I immediately called him and asked him what the customer price was, thinking that the price points that he sent me were dealer cost. "These are the customer prices" he said. I was not only astounded by the prices, but genuinely pleased that he was offering a professional flute that was affordable. - Bill Hutzel, Owner of The Flute Loft
DISCLAIMER

If an item is out of stock, your order will go into the system as a backorder and will automatically be processed when the item is re-stocked.  However, if you would prefer to call for availability beforehand and or request a trial period before committing to purchase, please call 908-500-6690.  Only after the trial period will your credit card be charged.  Without requesting a trial period, all online purchase transactions are considered final, or at the discretion of the Flute Loft, there will be a non-refundable 5% credit card fee charged to your credit card for a canceled transaction.  
PRICE SUBJECT TO CHANGE.