PLEASE CALL 908-500-6690 FOR AVAILABILITY AND PURCHASE TERMS.  NOT AVAILABLE AS AN ONLINE PURCHASE. 
OPTIONS AVAILABLE:  C# trill key, split E mechanism, and D# roller.  
The Di Zhao DZW model wood flute has a smooth key action, fast response, and excellent resonance. The grenadilla wood has been carefully selected, treated, and seasoned to resist changes in temperature and humidity. Di Zhao head joints are all hand carved with overcuts and undercuts to give a full and beautiful sound. All pads are partially shimmed, a process that is employed only for professional flutes. Each flute is semi-handmade in that each key is individually hand fitted for a precise fit without the side to side play found in machine made flute mechanisms. Master flute maker, Di Zhao tests and adjusts each instrument in the same manner that the top professional flutes in the U.S. are tested. I personally own one of these wood flutes and love it!
The Two Kellys - Kelly Gray McKinney (left) and Kelly Via (right) performing a piece from the Baroque on their wood flutes. Kelly Gray McKinney is performing on her Di Zhao grenadilla wood flute. Click on the video link below to listen.
REVIEWS 

On the first day that Jack Stafford got his new Di Zhao grenadilla wood flute he composed and recorded Pra Voce on it, a tribute to Carlos Jobim. Here's the song that Jack co-wrote with Tom Jobim - "Pra Voce"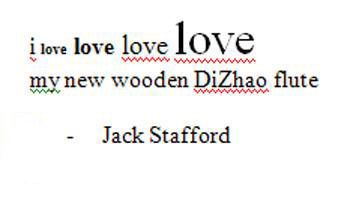 Tanya Witek said this of her new grenadilla wood headjoint -
"Well, one of the wooden headjoints has just become the reason I have kept my other Brannen all these years. It fits absolutely perfectly and the flute has become a different instrument! I am thrilled!  … April 22, 2010, Tanya Witek, Montclair State University Faculty Visiting Flute Specialist

I feel blessed to be one of the first in a new line of great musical instruments. - Posted Feb. 2010 … Lloyd Williams, St. Kitts, Nevis
DISCLAIMER
If an item is out of stock, your order will go into the system as a backorder and will automatically be processed when the item is re-stocked.  However, if you would prefer to call for availability beforehand and or request a trial period before committing to purchase, please call 908-500-6690.  Only after the trial period will your credit card be charged.  Without requesting a trial period, all online purchase transactions are considered final, or at the discretion of the Flute Loft, there will be a non-refundable 5% credit card fee charged to your credit card for a canceled transaction.